The Summer Courses Foundation of the University of the Basque Country is celebrating its 35th year, particularly noteworthy thanks to the wide range of areas covered. Once again, the Courses are providing a space for debate and critical thinking in terms of an ever-changing society.
This year, the Summer Courses are joining in the celebration of the Donostia- San Sebastián European Cultural Capital, providing a space for debate and analysis in terms of co-existence, mutual understanding, human rights, diversity, sustainability and well-being.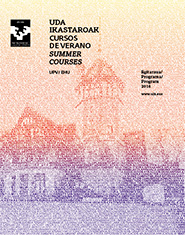 You can download the 2016 programme clicking on the image above. This programme has been edited on April 11th. Please check each activitie's programme in this website to acces to the latest version since they may change.
By activity type
The programme is composed of courses, workshops, professional seminars-schools and conferences, included in different cycles. These are listed below.
Courses
Courses have traditionally represented the core programme, constituting training aimed at deepening and /or broadening knowledge.
Workshops
The purpose of the workshops is the acquisition of practical skills and tacit knowledge. Particular attention is paid to learning of issues related to creativity, improvement and technical instruments.
Schools
The Summer Schools represent a line of specialised training activities with a medium-term focus on permanence, dealing with certain aspects of the subject chosen each year. They are organised with the collaboration of a Social Agent (Company, Foundation, Association, etc), a scientific-academic agent with the purpose of achieving benchmark training programmes, characterised by their quality and with the aim of fostering loyalty of attendees in successive years.
Professional seminars
The Professional seminars are designed to examine specific subjects related to the professional sectors. They are organised in collaboration with Professional Associations, Companies, Professional Bodies and other institutions.
Congresses
Our congresses, forums and specialised meetings aim to develop and present research, theories, experiences and "Know-how". They are organised in collaboration with Professional or Scientific Associations.
Open Activities
Our summer courses are complemented with a series of activities open to the general public, linked to certain classroom-based activities. They are free of charge.
Online courses
The online course schedule will be made up of on-site summer courses from previous years, adapted to the online methodology or by courses designed on an adhoc basis to be implemented online.
Streaming activities
The Summer Courses will offer free, open activities in a live streaming format. We are also looking at the option of offering certain courses in streaming format on a deferred payment basis.
Per Cycle
The scheduled activities are grouped into cycles:
Subject cycles:
Communication and information sciences
Transversal cycles:
1.Courses for everyone:
These are designed for the general public, dealing with a broad range of subjects. There is a reduced enrollment fee (50% until 31/5 and 35% from l1 June), upon submission of the culture card (DK) or library membership or culture house card, as appropriate, for the courses.
2.CAPV Education Professionals:
1. Certain courses that may be of interest for training and upskilling for teaching professionals have been selected from the programme.
This year has been designed in collaboration with the Department of Education, Linguistic and Cultural Policy of the Basque Country. All the courses from this year, except O.3, 2.5, 2.8, 6.3 and 6.11 have been certified in order to ensure that teachers participating in the same obtain the proper certification.
The Summer Courses offer primary, secondary and baccalaureate teachers of the CAPV and reduced enrollment fees (50% until 31/5 and 35% from 1 June) for courses making up the programme.
Any that have been established as Prest_gara courses are included in the Prest_gara 2016-2017. Plan training offer.
3.Osakidetza professionals:
Certain courses that make up the "Health, a commitment to people" cycle have been selected from this year's programme. This cycle has been developed in collaboration with the Department of Health and Consumer Affairs of the Basque Government and Osakidetza, which offers reduced enrollment fees (75% off regular rate) and is particularly aimed at training and upskilling health professionals.