Sustainability
DSF
Summer Course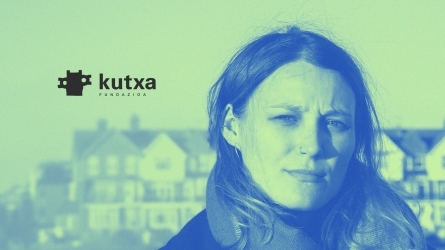 Gazte Ekoliderrak
07. Nov, 2023 - 13. Apr, 2024
Cod. H25-23
Egin bidea. Eragin aldaketa
Description
Klima larrialdia eta gizarte krisia denon ahotan daude egun. Etorkizun jasangarria lehen mailako erronka da. Gizartea aktibatzea ezinbestekoa da. Krisi egoera honen aurrean, ikusle ala eragile izan nahi duzu?. 
20-35 urte badituzu, eman izena!
Gazte Ekoliderrak jasangarritasunean eta eraldaketarako lidergoan oinarritzen den formakuntza eta bizitza ibilbidea da. Gazteak gizarte eraldaketaren sustatzaile izatea nahi dugu. Aktibista izatea. Ekolider bilakatzea.

Murgildu 6 hilabeteko eta 120 orduko formakuntza honetan (azaroa-apirila). Jasangarritasunaren 5 gai bloketan sakonduko dugu, 12 saio presentzialetan eta 3 egonaldi trinkotan parte hartuz eta erakunde baten erronka erreal bati irtenbidea emanez. 30 gazte elkarrekin, talde gidari eta bidelagunekin batera.
Trebatu jasangarritasunean eta lidergoan.
Ekin eta pasa ideietatik ekintzetara.
Izan gizarte eragile eta Ekolider sareko kide.

Read more
Objectives
Jasangarritasunaren ezagutzan sakondu eta ikuspegi holistikoa landu.
Lidergo kontzientearen konpetentziak landu.
 
Ekiteko ahaldundu: ideietatik ekintzetara igarotzea bultzatu.
 
Kontzientzia, pentsamendu kritikoa eta komunitatea sustatu.
Activity directed to
ikastaroa gazteei zuzenduta dago
Directors

Amaia Otazo Aseginolaza
Kutxa Ekogunea
Directora y coordinadora de Gazte Ekoliderrak. Desde el año 2012 ha coordinado 6 veces este programa para trabajar la sostenibilidad y el liderazgo. Es la responsable de Consumo y Hábitos Sostenibles y Solidarios de Kutxa Ekogunea. Licenciada en Ciencias Ambientales. Tras finalizar sus estudios en Italia ha trabajado principalmente en campañas de educación ambiental. En Artelatz, Servicios de Medio Ambiente, ha trabajado principalmente en mercados y campañas para impulsar la Agenda 21 Escolar y los hábitos de consumo sostenibles. Es miembro de la red Ekoliderrak.
Venue
Eureka! Zientzia Museoa
Mikeletegi Pasealekua, 43, 20009 Donostia, Gipuzkoa
Gipuzkoa
Other courses that might be of your interest...