The Summer Courses are taught at the University of the Basque Country's identity centre itself, starting up practically at the same time as when the university was designated as the University of the Basque Country, offering a dynamic range of quality courses, year after year, since that time. They have also become the perfect complement to the university academic activity that takes place throughout the year, representing a space for debate and critical thinking around an ever-changing society.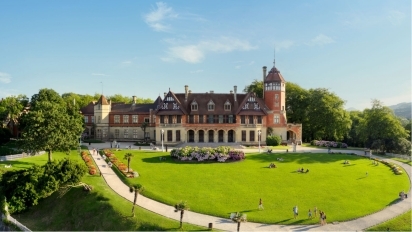 The Summer Courses are taught at the University of the Basque Country's identity centre itself.
In its 12th edition in 1993 the Summer Courses Foundation of the UPV/EHU was set up to organise and manage the Summer Courses
The Foundation has established itself as a neutral space for dissemination, reflection and debate on the challenges faced by society. Different stakeholders from society come together in this forum: academia, research, the business world, the Administration and society in general.
Over the years new initiatives have been created, among them the Donostia Sustainability Forum, a forum set up in 2020 for the  interdisciplinary treatment of sustainability from the  environmental, social and economic perspective.
In 2021 we celebrated the 40th anniversary of the Summer Courses, highlighting what has been learned over these 40 years and the digital transformation that has emerged from the pandemic. In 2022 the Foundation is launching a new image −UIK− to take on a new phase.
This evolution of the brand will allow the Foundation to be more present in the digital world all year round.
By this we refer to a strategic alliance among stakeholders who are firmly committed to the project: the Basque Government, the Territorial Administration of Gipuzkoa, Donostia-San Sebastián City Council; private entities such as the BBVA Foundation (the main private partner) and all the entities that cooperate in the courses, their management, and speakers for the activities, as well as the students. This great project is made possible by all their efforts.