All news
The challenge of sustainable mobility: between batteries and hydrogen
"Hydrogen is going to gradually carve out a place in sustainable mobility, but if batteries take off and allow longer and longer ranges, they'll be a better solution in economic terms. And there's going to be a bit of a fight between the two technologies." Iosu Ibarbia, technology manager at CAF, came to the Donostia Sustainability Forum to explain the current position of transport based on electric batteries and on hydrogen, which already accounts for a large part of the integrated transport projects on which the Gipuzkoa-based company is working.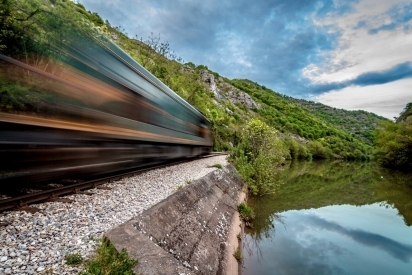 Transporting goods and people currently generates 25 percent of the CO2 emissions that contribute to climate change, hence the importance to climate action of efficient mobility design. Transport solutions able to reduce the carbon footprint and encourage intermodality represent one of the main strategic routes to decarbonisation. In this context, the CAF group is working to develop more sustainable railways and buses.
The success of electric buses
Road transport, by both public and private vehicles, generates most of the CO2, as it remains highly dependent on oil-derived fuels. CAF, though its subsidiary Solaris, has been working for years on buses powered by batteries or by hydrogen cells. These buses, primarily urban ones, have made CAF-Solaris the European leader in sales of electric and hydrogen-powered buses. In 2021 half of the 1,500 buses built by the company were zero-emission.
Right now the batteries used by electric buses have ranges of between 200 and 300 km, sufficient in an urban setting for the bus to run all day and recharge at night. For buses on longer routes, the use of hydrogen-based technology is envisaged. 
"More and more cities in Europe are rolling out buses that work with hydrogen" explained Iosu Ibarbia, pointing out that a market is being created for this type of means of transport, which has a longer range than batteries and can be implemented more easily in buses than trains. However, technological challenges remain, such as how to produce green hydrogen more cheaply to make these vehicles as practical an option for services as diesel vehicles.
The future of railways
The outlook for railways is different. CO2 emissions generated by trains account for less than 0.5 percent, as it is a highly electrified and inherently efficient means of transport, and only a small proportion of trains in Europe run on diesel. Electric trains continue to depend, however, on an overhead catenary to run. The batteries developed so far do not have enough range for such heavy vehicles, which is why hydrogen is being considered as an alternative. One example, as Iosu Ibarbia explained, is the hydrogen train currently being tested by CAF in Zaragoza, which is a new model for the future. A new kind of mobility that emerged years ago with the need to design trams able to run without catenary power lines in urban areas. From here "the leap has been made to mixed local trains, able to provide services in urban areas with catenary lines and, outside town, run without needing diesel fuel," added Iosu Ibarbia.
One of the aspects highlighted by Iosu Ibarbia regarding the future of railways is the importance being given to keeping up low-density lines. "Even though few passengers use them, they are important from the point of view of structuring the region," explained the CAF executive. Although they are loss-making lines, France and Germany have opted to keep them up because they contribute to mobility.
Sustainable, smart mobility
CAF's commitment to innovation and investment in new technologies aims to develop increasingly efficient means of transport to cut CO2 emissions and optimise the way they are driven.  Regarding the latter question, Iosu Ibarbia pointed out the importance of the concept of an autonomous vehicle, able to run without human intervention, in such a way as to keep energy consumption to a minimum.