Science and Technology
Free registration
Open activity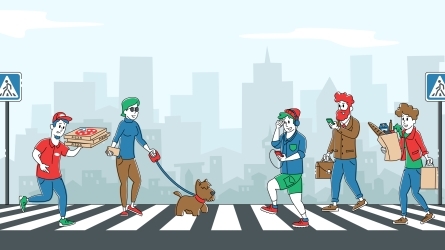 La ciudad de 15 minutos
14.Sep - 14. Sep, 2023
Cod. W07-23
los ciudadan@s en el centro del planeamiento urbano y la movilidad
Description
Durante la pandemia de COVID-19, las cuarentenas y las restricciones de viaje obligaron a personas en ciudades de todo el mundo a permanecer en las inmediaciones de sus hogares. A medida que la ciudadanía disfrutaba de más tiempo al aire libre, muchas personas, especialmente en grandes ciudades, se dieron cuenta de que el entorno en el que viven no está diseñado de acuerdo a sus necesidades. Se encontraron con barrios con escasos servicios y una amplia reserva de espacio para uso exclusivo de los automóviles, en detrimento del peatón.
El concepto de la ciudad de 15 minutos es una propuesta a escala humana sobre cómo se deben planificar las ciudades para mejorar la calidad de vida. El objetivo es proporcionar a la ciudadanía todos los servicios básicos necesarios en un itinerario de 15 minutos desde sus casas utilizando medios de transporte sostenibles, estos es, caminando o en bicicleta.
Read more
Activity directed to
Program
14-09-2023
18:00 - 18:05
Presentation by the Director of the activity
Adur Ugartemendia Leunda

| Beasaingo Udala - Lurraldea Saileko Lehendakaria

Leire Artola Ugalde

| Beasaingo Udala - Alkatea
18:05 - 18:50
"Territorio y Movilidad"
Ignacio Alcalde Marcos

| City Focus - CEO
18:50 - 19:35
"La ciudad de 15 minutos"
María Teresa Baquero Larriva

| Universidad Politécnica de Madrid - Posdoctoral Researcher
19:40 - 19:45
Closing session
Adur Ugartemendia Leunda

| Beasaingo Udala - Lurraldea Saileko Lehendakaria
Speakers

Leire Artola Ugalde
Ayuntamiento de Beasain
Leire Artola Ugalde es licenciada en Derecho con especialización en Economía por la Universidad de Deusto (1999). Cuenta con una amplia experiencia como gestora comercial gracias a una trayectoria de 15 años en la Caja Rural de Navarra. Entre 2011 y 2015 comenzó a compaginar su actividad profesional con la política al tomar el cargo de concejal en el Ayuntamiento de Beasain. Desde 2015 es política profesional. Tras una primera etapa en la que fue Primera Teniente de Alcalde y Presidenta del departamento de Territorio, en diciembre de 2020 fue nombrada alcaldesa de Beasain, la primera en toda la historia. Asimismo, es juntera de las Juntas Generales de Gipuzkoa.

Ignacio Alcalde Marcos
Arquitecto urbanista con 3 décadas de experiencia en transformación urbana y desarrollo territorial. Ha participado en la redacción de la Nueva Agenda Urbana española, ha sido director del Máster en Urbanismo de la Universidad San Pablo CEU. Trabaja en alianza con distintas entidades como ONU Hábitat o Tecnalia, uno de los principales centros tecnológicos europeos y asesora a instituciones y empresas sobre temas relacionados con la ciudad. Algunos trabajos en los que ha desempeñado responsabilidades han obtenido reconocimientos internacionales como el Premio Europeo de Urbanismo, el premio global al proyecto más innovador en Smart City Expo 2015 de Barcelona o el premio mundial al mejor proyecto urbano de 2017 por la Asociación Internacional de Urbanistas.

María Teresa Baquero Larriva
Arquitecta y Magister en Construcciones por la Universidad de Cuenca (Ecuador) y doctora en Regeneración Urbana y Sostenibilidad por la Universidad Politécnica de Madrid. Actualmente es investigadora Postdoctoral Margarita Salas, dentro del departamento de Urbanismo y Ordenación del Territorio de la UPM desarrollando el proyecto "Accessibility Planning for the 15-Minute City (ACC<15')". Su enfoque se centra en la inclusividad y equidad en estos modelos de proximidad y en cómo pueden integrar las necesidades de todos los grupos de la población, incluyendo las personas mayores y personas con discapacidad dentro de sus politicas y planeamiento. Cuenta con más de 14 publicaciones entre las que destaca "±15-Minute City: Human-centred planning in action Mobility for more liveable urban spaces" , un proyecto de investigación desarrollado para EIT Urban Mobility, durante su estancia posdoctoran en la Technical University of Munich.
Venue
Igartzako Jauregia
Igartzako Monumento Multzoa. Peategi z/g. 20200 Beasain
Gipuzkoa
43.04738362444642,-2.2092355626202256
Igartzako Jauregia
Igartzako Monumento Multzoa. Peategi z/g. 20200 Beasain
Gipuzkoa
Other courses that might be of your interest...