Free registration
DSF
Open activity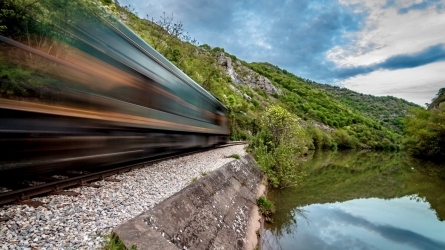 Sustainable mobility, a challenge and an opportunity
06.Oct - 06. Oct, 2022
Cod. W20-22
Transport in general accounts for 25% of CO2 emissions, we will see how CAF contributes to its reduction with sustainable and innovative solutions.
Description
Transport is a very wide-ranging concept that includes all the areas it covers: road, air, sea… and represents 25% of C02 emissions worldwide. The overall figure of emissions, far from falling, has continued to rise over the last few years, so transport is a key player when it comes to minimising these adverse effects and where new sustainable solutions can start to make their presence felt.
Fewer than 0.5% of CO2 emissions from the transport sector are generated by rail transport, a highly electrified and intrinsically efficient form, but this does not mean that we should stop innovating and looking for new technologies to improve the efficiency of the sector and replace the few diesel trains that are still in service. Many players in the sector, based on their commitment to sustainability and innovation, have decided to create solutions that are increasingly sustainable, designing products that reduce their carbon footprint even more and enable users – customers and transport operators alike – to contribute to mobile sustainability.
A clear example is the widely recognised track record of the CAF Group, recently awarded a platinum medal for sustainability management by Ecovadis, placing it among the best performing companies in the rail and bus passenger transport sector. The company was evaluated for its policies, activities and results in environmental areas, workplace and human rights practices, ethics and sustainable procurement.
In the particular case of road transport, which generates the highest proportion of CO2, mainly due to its extensive use and low level of electrification, CAF – through its subsidiary Solaris – makes a commitment to buses powered by batteries or hydrogen cells, an approach that has made it the European leader in sales of electric and hydrogen-powered buses. These vehicles, mainly city buses, are at the cutting-edge of sustainability in mobility and have contributed to improving the efficiency and optimisation of this kind of vehicles throughout Europe.
For all these reasons, we are pleased to have CAF's Chief Technology Officer Iosu Ibarbia with us today to talk about innovation and new technologies, to make a comparison between technologies in the rail and bus sectors and give us an overview of the sustainability strategies the company develops based on the committed, practical and versatile vision that defines it so much.
Read more
Activity directed to
Program
06-10-2022
Eva Caballero kazetariak hizlariarekin elkarrizketa izango du hitzaldia amaitutakoan / La periodista Eva Caballero mantendrá un diálogo con el ponente una vez finalizada la conferencia
18:00 - 19:00
"Movilidad sostenible, reto y oportunidad"
Iosu Ibarbia Iriondo

| Director de Tecnología de CAF
Speakers

Iosu Ibarbia Iriondo
Miembro del Comité Ejecutivo de CAF Director de Tecnología de CAF CAF (www.caf.net) Construcciones y Auxiliar de Ferrocarriles Iosu Ibarbia es Ingeniero Mecánico por la Universidad de Navarra, y eMBA por la Universidad de Lancaster (UK). Iosu inicia su carrera profesional en CAF en el año 1994 como ingeniero de I+D. En 2007 se responsabiliza de la puesta en marcha de Trainelec, que fue uno de los primeros spin-off tecnológicos del Grupo CAF en el ámbito de la tracción eléctrica y los sistemas de acumulación de energía. En el año 2012 asume la dirección de CAF Power & Automation. Centrado en una etapa de desarrollo de negocio, y diversificación geográfica. En abril de 2019 asume la dirección de la Unidad de Negocio de Sistemas y Componentes, y pasa a formar parte del Comité Ejecutivo de la compañía. Sus responsabilidades incluyen los negocios de componentes, señalización y proyectos llave en mano. En noviembre de 2020 asume la Dirección Corporativa de Tecnología del Grupo CAF.
Venue
Miramar Palace
Pº de Miraconcha nº 48. Donostia / San Sebastián
Gipuzkoa
43.3148927,-1.9985911999999644
Miramar Palace
Pº de Miraconcha nº 48. Donostia / San Sebastián
Gipuzkoa
Other courses that might be of your interest...