Free registration
DSF
Open activity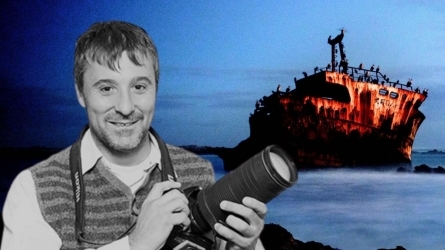 TALLER - Imágenes para mover a la acción
07.Sep - 07. Sep, 2022
Cod. W17-22
El taller solo se podrá seguir de manera telemática vía ZOOM
Description
El fotoperiodista Sergi Reboredo dirigirá el taller "Imágenes para mover a la acción" dentro de la programación de la Escuela de Comunicación Ambiental 2022. La iniciativa está dirigida a las personas asistentes de manera telemática al Curso, aunque también estará abierta de manera gratuita para cualquier persona que quiera participar en el taller en modalidad online en directo.
Read more
Activity directed to
Program
07-09-2022
16:00 - 17:30
"Imágenes para mover a la acción"
Sergi Reboredo Manzanares

| Fotoperiodista
Speakers

Sergi Reboredo Manzanares
Barcelona, 1971. Estudió en el l'IEFC entre 1998 y 2001, y fue becado por la Universidad de Gijón. Premio de la Fundación de Derechos Civiles 2003, Finalista Premio Internacional de Fotografía Digital Gabriel Cualladó del Institut Valencia d'Art Modern (IVAM) en 2004, primer premio III Certamen Nacional de Fotografía Los derechos Humanos (Realejos, Tenerife), primer premio "Eugenio Rodríguez" del Ayuntamiento de Toledo, y Premio de Fotoperiodismo "Fundación Caixa Galicia–Juan Cancelo" 2007. También nominado en 2012 al prestigioso premio PICTET organizado por el diario económico Financial Times; en 2015 galardonado con el Premio Humanity Photo Award de la UNESCO, y en 2018 Casa de África le concede el premio a la mejor fotografía realizada en ciudades africanas, entre otros tantos galardones. Ha expuesto en Maison de l'UNESCO (PARÍS), Museo de Arte Guangdong (Guangzhou, CHINA), La Casa Encendida (Madrid), MACBA, Kowasa Gallery, SONIMAG, Perpignan (Francia) o en el Institut Català Internacional per la PAU de Barcelona. En 2004 publicó el libro "Barcelona 2004 como mentira" junto al escritor Manuel Trallero; en 2018, "101 lugares de mundo", y en 2019, "Trenes por el Mundo".
Venue
Online streaming (ZOOM)
Online streaming (ZOOM)
43.3148927,-1.9985911999999644
Online streaming (ZOOM)
Online streaming (ZOOM)
Other courses that might be of your interest...