Culture and Art
Society
History
Architecture and Urbanism
Free registration
Summer Course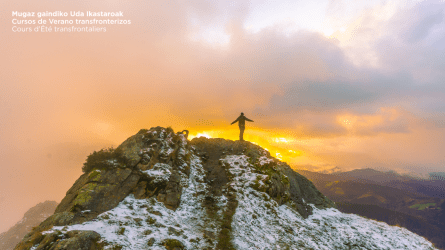 Frontière et paysages
20.Jul - 20. Jul, 2023
Cod. A09-23
Los idiomas oficiales del Curso son el español y el francés. Se habilitará servicio de traducción para seguir el Curso en cualquiera de los dos idiomas.
Description
Le paysage est un révélateur du territoire, de ses qualités physiques, biologiques y climatiques, des façons d´y vivre, de l´occuper et de le gérer. Il donne lieu à des représentations que les professionnels de l´aménagement construisent pour retranscrire ces complexités et guider certaines politiques publiques ; il peut parfois être directement modelé sous les conseils de paysagistes. Les objectifs de ce cours sont de faire découvrir les multiples acceptions du terme paysage, de donner à voir les paysages frontaliers à partir des études existantes, d´expliquer en quoi la frontière est un paysage particulier, de débattre de cette notion et de son intérêt dans le cadre de la coopération transfrontalière. Le cours s´inscrit dans les travaux du DATAPASS, observations territoriales transfrontalières Sud Europe Atlantique et Pyrénéen, portés par les collectivités publiques depuis 2019.
Read more
Objectives
Les objectifs sont multiples: expliquer en quoi la frontière est un paysage particulier ; faire découvrir la polysémie de la notion de paysage et la façon dont il est traité par les professionnels de l´aménagement du territoire
Activity directed to
All public
University student
Students not from university
Teachers
Professionals
Program
20-07-2023
09:30 - 10:40
"La frontera desde los paisajes"
Agglomération PAYS BASQUE
CCAA Navarra
11:00 - 11:50
"La frontera desde los paisajes"
CCAA Aragon
CD 64
12:00 - 12:45
"Una experiencia de plan paisaje transfronterizo"
Lucie Julien

(Participation by zoom)
Directors

Helene Larralde
Speakers

Manuel Borobio Sanchiz
ABTEMAS SL

Lucie Julien

Nadia Mabille

Cyril Marlin

Luis Martínez Lorenzo

Hélène Velasco-Graciet
Registration fees
| Face-to-face | Until 20-07-2023 |
| --- | --- |
| | 0 EUR |
Venue
43.48053049069504,-1.4888416967827416
Other courses that might be of your interest...